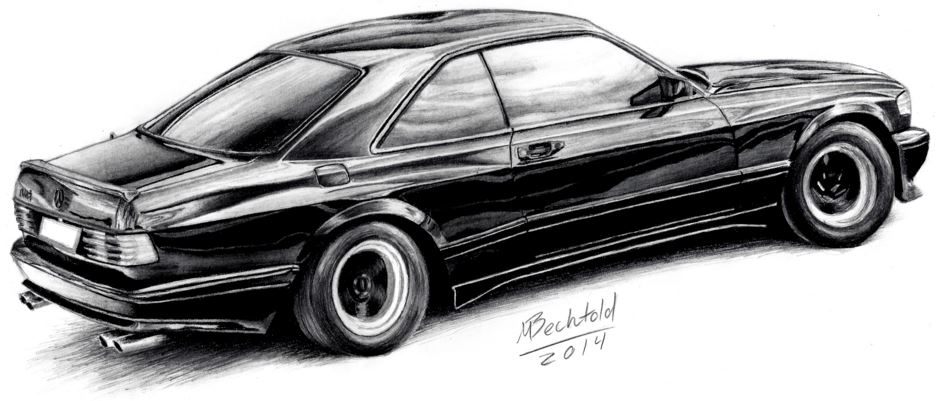 MERCEDES BENZ W126 REPAIR MANUAL COLLECTION
| | |
| --- | --- |
| | Visit our Navigation Menu to see all workshop and repair manuals for the Mercedes Benz 126 series |
Mercedes Benz Repair Manual Collection
300SD | 300SDL | 300SE | 300SEL | 350SD | 350SDL | 380SE | 380SEL | 380SEC | 420SEL | 500SEL | 500SEC | 560SEL | 560SEC

1979, 1980, 1981, 1982, 1983, 1984, 1985, 1986, 1987, 1988, 1989, 1990, 1991 Mercedes Benz 126 Series Workshop Service and Repair Manuals.
---
---
This Mercedes Benz 126 Service And Repair Manual Collection Is An All Inclusive Collection
Maintenance, Service, Repair Manuals on CD. The Best You Will Find! This is a Complete Comprehensive Mercedes Benz Repair Manual. CD Runs In A Browser And Works With All Operating Systems. Zoom in & Print any Page or Diagram
OEM - Same Manual Used By Mercedes Mechanics!
Mercedes 126 Service and Repair Manuals on DVD

International

Ships Worldwide

Service, Repair,

and Maintenance

Manual's on CD

>>PayPal >>

Just $46.95

+ $3.05 For Shipping
U.S. Orders Only
---
Mercedes Benz Series Service, Maintenance Manual Collection
This manual contains thousands of pages of detailed repair and troubleshooting procedures.
It covers Mercedes Benz 126 Series cars and includes bumper-to-bumper documentation including specifications, electrical diagrams, troubleshooting and diagnosis, engine mechanical repairs, suggested maintenance schedules and body and chassis assemblies including, doors, windows, switches etc.
Distributed for use by automotive technicians, this deluxe manual includes disassembly and assembly instructions as well as schematics, diagrams, and detailed illustrations along with troubleshooting info that covers the following topics:
---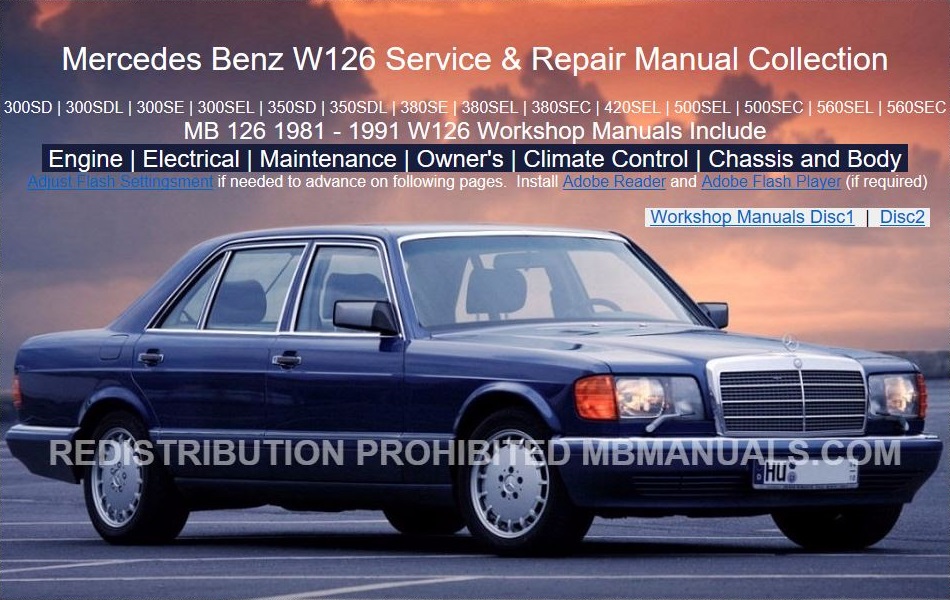 Download English Language Manuals:
MB 126 Manual Collection

Download Desktop PC Installation Version 932mb
Service, Repair, Maintenance, Chassis, Body, Engine, Electrical, Heat/AC, delivered by Download Link
Delivery By Download Link: Sent to your PayPal email address: $24.95
---
| | |
| --- | --- |
| | Chassis and Body Assemblies, Suspension, Axels, Brakes, Steering |
| | Engines, Lubricating, Cooling, Technical Data, and Assembly |
| | Electrical Troubleshooting and Wiring Diagrams |
| | Climate Control Heating & Cooling |
| | Maintenance Inspections, Adjustments, Lubrication, and Service |
| | Basic Owner's Manual Reference with Instruments and Controls |
| | Technical Data on Fuels, Coolants and Lubricants |
This Technical/Service/Repair/Maintenance Manual is available on CD, Local and International Shipping
Contains descriptive images and instructions in English, which allows reading both monitor of your PC, and printing the pages you need.
This Manual is the same information used by Mercedes Benz Mechanics. By using the same step by step manuals as the dealers use, you can be assured that all the information you need to do the job right is included.

INCLUDED WITH THE SERVICE REPAIR MANUAL:
Fuels, Coolants, Lubricants, Consumer Data
Maintenance Manual which includes:
Brakes and Cables, Hydro Pneumatic Suspension, Steering Linkage, Axels Clutch and Driveshaft inspections, Heating, Cooling and Fuel Systems
Chassis & Body Manual which includes:
General Technical, Suspension, Front and Rear Axel Assemblies
Wheels and Drive Shaft, Brakes, Climate Control Heating & Cooling
Electrical Troubleshooting Manual which includes:
Wiring Diagrams, How to Troubleshoot Guide
Engine Manual which includes:
General Technical Data, Engine Removal and Installation, Cylinder Head and Crankcase, Crankshaft Assembly, Engine Timing, Mechanical and Electronic Fuel Injection
Basic Owner's Operation Manual Reference
Workshop Service, Maintenance, Repair Manuals
U.S. Market - Index of Series W126 Mercedes Benz Vehicles

W126 Sedans
Model
Years Built
Chassis
Engine
Produced
260SE
1985-1991
126.020
103.941
20,838
280S
1979-1985
126.021
110.924/926
42,996
280SE
1979-1985
126.022
110.987/989
133,955
280SEL
1979-1985
126.023
110.987/989
20,655
300SE
1985-1991
126.024
103.981
105,422

300SEL

1985-1991
126.025
103.981
40,956
380SE
1979-1985
126.032
116.961/963
58,239
380SEL
1979-1985
126.033
116.961/963
27,014
420SE
1985-1991
126.034
116.965
13,996
420SEL
1985-1991
126.035
116.965
74,017
500SE
1979-1985
126.036
117.961/963
33,418
500SE
1985-1991
126.036
117.965
w/above
500SEL
1979-1985
126.037
117.961/963
72,639
500SEL
1985-1991
126.037
117.965
w/above
560SE
1988-1991
126.038
117.968
1,252
560SEL
1985-1992
126.039
117.968
75,071
300SD
1979-1985
126.120
617.951
78,725
300SDL
1985-1987
126.125
603.961
13,830
350SD
1990-1991
126.134
603.970
2,066
350SDL
1990-1991
126.135
603.970
2,925
C126 Coupes
Model
Years Built
Chassis
Engine
Produced
380SEC
1980-1985
126.043
116.963
11,267
500SEC
1980-1985
126.044
117.963
30,184
500SEC
1985-1991
126.044
117.965
w/above
560SEC
1985-1991
126.045
117.968
28,929
420SEC
1885-1991
126.046
116.965
3,680
---
Mercedes Benz 126 - W126 Models